Soft Tissue Grafting (Gum Grafting)
Long teeth / exposed Root
Do you feel you look older than you really are? Sometimes gum recession causes the tooth root to become exposed which makes your teeth look long and can make you look older than you are. This recession can happen as a result of a variety of causes such as incorrect brushing and use of hard toothbrushes the most common one. Gum disease may also in time lead to gum recession. There are many other factors that may be important and these need to be specifically evaluated and discussed before any treatment is undertaken. Whatever the reason, exposed roots are unappealing and can leave you at risk of developing cavities on your tooth root.
Can gum recession be treated?
Yes, gum recession can be successfully treated. Scientific studies show that the method of treatment used by Dr Pavlovic is predictable and long lasting.
How is gum recession treated?
After a careful assessment of your gums, we will be able to predict how much of the root surface (exposed due to gum recession) can be covered with new gum. We numb your gums first and then take a small piece of gum (a gum graft), usually from the roof of your mouth, and transplant it over the exposed root surface. The gum graft will heal over the root surface, making it look better and reducing the chances of further gum recession in the future.
Does it hurt?
The techniques we use ensure that there is very little post-operative discomfort. Effective pain killers are available if needed to give you comfort after treatment without the need to take time off work.
Before
After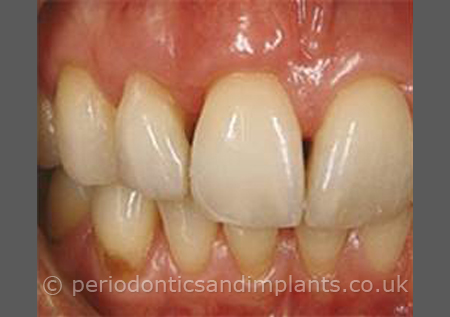 Before and after root coverage.