By using dental implants, a dentist can put an end to many of the problems associated with traditional dentures. At Kent clinic Centre for Aesthetic Periodontics and Implantology Limited, our skilled implant surgeon can use dental implants to stabilise your dentures, meaning you will never again need to worry about them slipping out of place.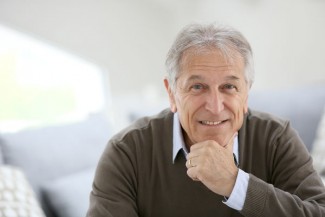 Dental implants are often colloquially called "replacement teeth", but more accurately they are replacement tooth roots. Standard dentures and dental bridgework only replace the crowns of lost teeth, and when the roots are missing for any significant period of time, the jaw bone will start to resorb or shrink back, leading to traditional dentures becoming loose.
Resorption of the jaw bone can also alter the entire appearance of the face, giving sufferers a prematurely aged look. Dental implants actively prevent the jaw bone resorbing.
We see many patients at our Kent Dental Centre who are suffering the indignity of loose dentures. Ill-fitting false teeth can:
Affect your ability to eat a healthy diet
Affect the clarity of your speech
Make you self-conscious about denture slippage, which can cause you to limit your social activities, contributing to the problem of loneliness and social isolation which affects up to one million people aged 75 and over in the UK.
Using dental implants to stabilise your dentures will end all of these problems, and let you get back to enjoying life. CAPI in Kent also offers bone graft procedures for those who have experienced bone loss, so that they can still have dental implants.
Between four and eight dental implants per jaw are used to support a full arch denture. Implants may be placed under local anaesthetic or sedation at our Kent Dental Clinic.
It is also possible to have a full-arch dental bridge affixed to dental implants. Implant-retained dentures remain removable for cleaning, whilst a bridge attached to implants is designed to stay in place permanently. For the latter option, you will clean the teeth on your bridge much like normal teeth; a Dental Hygienist can teach you any specific cleaning tips and tricks required.
---