Missing teeth?
If you are missing teeth, the chances are you are missing being able to smile as well. You might be missing the ability to speak clearly. You might be missing being able to eat your favourite foods, and bite and chew without worry. You may even be missing the natural, fuller shape of your face as missing teeth can cause an unflattering sunken look.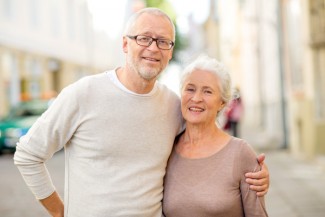 The Centre for Aesthetic Periodontics and Implantology Ltd is a modern, state-of-the-art dental practice offering a range of general, specialist, restorative and cosmetic procedures, including dental implants in Kent. Our goal is to provide the highest possible quality, evidence-based treatment in all areas. We regularly accept referrals from other dentists due to our expertise, and are often considered an extension of their own services.
Our expert team are at the forefront of their careers. Dr Pedja Pavlovic is our principal dentist, a qualified Specialist Periodontist. Alongside Dr Pedja Pavlovic, our team of hygienists, nurses and dentists are dedicated to ensuring you receive the highest standard of dental care possible.
What are dental implants?
The 'implant' element is made of a small titanium screw which is carefully placed into the jaw bone in order to support crowns, dentures or bridges. Their functionality is the same as a natural tooth, and through a natural process called osseointegration, the body's natural bone tissue fuses with the new root to create a strong bond. The new implants promote and sustain bone growth, helping to prevent any problems with future bone loss (often associated with missing teeth).
At Centre for Aesthetic Periodontics and Implantology, your dental implants will be placed by the highly experienced Dr Pavlovic, and the replacement teeth will be restored by Dr Bardia Valizadeh.
Is it painful?
The procedure is not painful. In Kent, dental implants are fitted for most people under local anaesthetic. However, we understand that dental treatment can make some people very nervous so we also offer conscious sedation. It is rare for there to be post-operative pain.
Interested?
If you are interested in dental implants in Kent, contact Centre for Aesthetic Periodontics and Implantology Ltd today to arrange your first assessment.